Top 5 spots for vegans in Minsk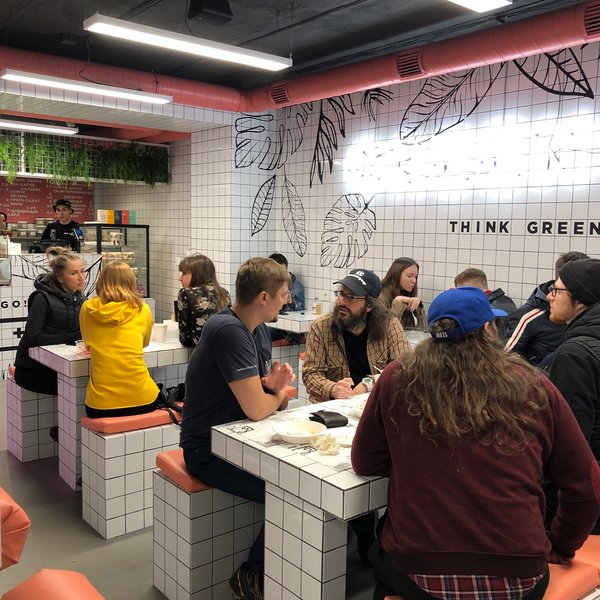 3 May 2019 319 0
Today, Minsk is a true European city that follows modern trends, and healthy eating is not an exception. If you are already tired of draniki, cutlets and meat soups – this info is just for you! Be ready to discover top 5 places serving the best meatless dishes.

1) Indian bistro Om Namo This vegetarian bistro was founded by a yoga teacher and a spice vendor at Komarovka market – Bikash Nahara. Here you will find authentic Indian atmosphere and low prices for s dishes. As for example, salads – 5 BYN, soup – 5 BYN, Basmati with vegetables – 7 BYN, deserts – from 2 BYN.

Where: Horuzhey Str., 13

When: every day, from 11.00 to 23.00
2) Monkey Food Actually, this place was the first vegetarian spot in Minsk! By this time, they already have two addresses, one of which is situated in the Oktyabrskaya street – right in the city center. The interesting feature is that delivery in this café is always made by bicycles, even during cold winters. As for price, it is also a budget place for eating (burgers from 2 BYN, roll with falafel from 3.5 BYN, soups – 3 BYN)
Where: Oktyabrskaya Str. 16 / Bogdanovicha Str. 128A
When: from 11.00 to 22.00 / from 12.00 to 22.00
3) Cafe "Supkultura" Walking thought the main avenues of Minsk you could not but notice people drinking soup from kind of pastry. In fact Supkultura cafe offers soups for only 5-5.5 BYN, which are carefully poured into a cup of bread that you can eat! A great option if you are hungry – each soup weights around 400 grams!
Where: Kozlova Str. 5 and Dzerzhinsky Avenue, 10
When: Monday-Sunday 11:00 – 21:00
4) Green+Go Green+Go is a new vegetarian café, neighboring with Monkey food that has just opened in April, 2019. A unique and modern design attracts here all photo lovers from around Minsk. The second reason to visit this place is extravagant vegan food like seitan, okara, anchan and coolies. The prices are a bit higher than in other places but still better that in common restaurants. Soup – from 4.5 BYN, Rolls from 7 BYN, full hot meal from 9 BYN.
Where: Oktyabrskaya Str., 19
When: 16:00 – 22:00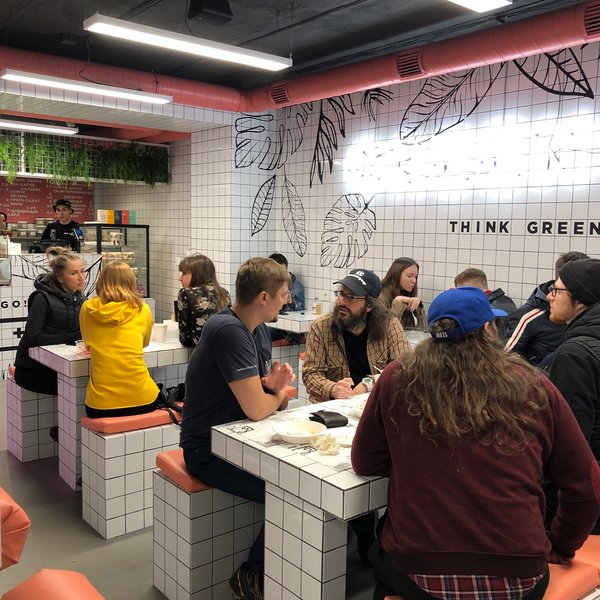 5) Karma Bar The only bar in our list is featured because of the tastiest vegan sandwiches and for pet-friendly atmosphere. This place is also a constant venue for night concerts, rave parties and Dj sets.
Where: Komsomolskaya Str. 14
When: 11:00-00:00